New Restaurant to Open at Dayton Arcade
November 7, 2022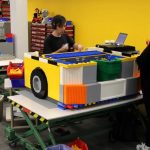 Lego Café is Coming to Town!
February 23, 2023
Entertainment Complex Coming to Liberty Township
Liberty Township, Ohio. Plans are being finalized for an unique mixed dining, recreation complex across the street from Lakota East High School's campus. The two-story facility on more than three acres is now planned to open in late 2023. The "Liberty Collective" will feature a half-dozen restaurants created by local chefs and whose eateries will be rotated out every three years to maintain variety. The facility will also feature outdoor dining, sand volleyball and bocce ball courts along with a live music stage and family oriented activities. Project completion expected in late 2023.
Kiesland is providing design/build services in collaboration with Phoenix Architecture, Blue Ash, Ohio www.phoenix-arch.com