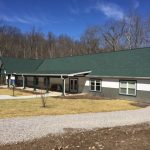 In the News
Miami Township, Clermont County. The new Greenacres River Education Center officially opened recently.  Kiesland provided complete design/build services to construct this unique facility.  The River Education Center serves as a functional water quality laboratory with offices and educational facilities under one roof.  The building will serve Greenacres' mission of education with regard to water quality and environmental awareness.  The facility will host students of all ages through field trips and specialized programming at the center.  Sustainable features include rainwater harvesting, rain gardens, interior daylighting and geo thermal heating and cooling systems.
Project architect was Casler Design www.caslerdesign.com.  Site engineering was provided by Vivian Llambi Associates www.vla.net, both of Cincinnati, Ohio.
For more information see attached article from the Cincinnati Enquirer which further describes Greenacres and the new facility.
http://www.cincinnati.com/story/news/local/indian-hill/2017/03/09/open-house-greenacres-new-river-education-center-march/98945828/